Tablets BlackBerry-maker Research in Motion has summoned the press to an event in New York on Tuesday,
where it is expected to announce plans for a November rollout of a a tablet device. Reports say the device will be called the Blackpad and will feature the same 9.7-inch screen as Apple's iPad. The device is also expected to be powered by BlackBerry OS 6, the previously announced overhaul of  RIM's operating system. No word on pricing yet.
Big question for content owners and distributors is whether the Blackpad will attract a significant number of developers and whether the new OS can support rich, immersive media apps. GigaOm Pro mobile analyst Colin Gibbs has his doubts.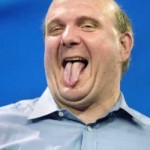 While RIM, Google and others rush to get into the tablet game before Apple runs away with it, however, Microsoft seems oddly unhurried. Speaking to analysts last week, Steve Ballmer said,  "We'll talk about about slates and tablets and blah, blah, blah, blah," as if they were the last thing he wants to talk about.
"We've got everything on our side if we do things really right," he added, without elaborating. "Some of you will say, well, when? When? And I say, As soon as they're ready."
So there.
Further reading:
Microsoft Totally Going to Make Things Happen in Tablets
Analyzing Steve Ballmer's Language: He "Thinks" a "Lot" About "Things"
Steve Ballmer Has No Respect For an Android Tablet
Ballmer (and Microsoft) Still Doesn't Get the iPad