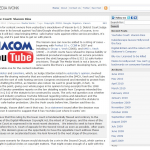 The full archive for The Media Wonk blog, from April 2009 through June 2010, is now available through Concurrent Media. You'll find it here, or by clicking the Media Wonk Archive button on the home page. The content is fully searchable, although original categories and tags assigned to each post are no longer visible within the Concurrent Media design scheme, so sorting by those parameters is no longer possible. All links in The Media Wonk posts remain live, except for those where the target of the link is no longer accessible.
The Media Wonk site will remain live for a while, although eventually it will be shut down and the URL will redirect here. The contact email address for the old site, paul@themediawonk.com, likewise will eventually be redirected to the new contact at the new domain, paul@concurrentmedia.com. With luck, no emails will be lost in the forwarding process.
Thanks again to readers of The Media Wonk. I hope you find the new site useful.