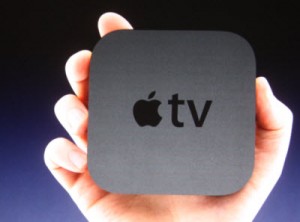 Apple TV I'm beginning to think Gene Munster of Piper Jaffray is going to build his own all-in-one Apple TV just to prove it's really happening. He's been banging the drum for an Apple-branded big-screen TV with built-in DVR for close to two years now, first predicting it would launch by 2011, then pushing the date back to 2012. Lately he's been hedging a bit, predicting an arrival in the next two to four years.
On Monday Munster was back again, citing Apple's mysterious new licensing deal with Rovi as further evidence of an Apple TV/DVR on the way. Here's the nut of his argument, via Business Insider:
Apple Licenses TV Guide Technology From Rovi; Further Evidence Of An Apple Television. Earlier today (9/20), Rovi, owners of television guidance technology Interactive Program Guide (IPG), announced a licensing deal covering Guide technology for Apple's services (e.g. iTunes) and devices (e.g. Apple TV, iPad). We believe this announcement is further evidence that Apple is developing live TV and DVR features for its Apple TV product, and will likely launch an all-in-one Apple Television in the next 2-4 years. Following its deal with Rovi, Apple would be clear to add live TV, DVR, and guidance features to its Apple TV product, which we believe is a critical step towards an all-in-one Apple Television.
New Apple TV Will Drive Higher Volume And Is Another Step In The Direction Of An All-In-One Apple Television. We see the new Apple TV, announced on 9/1, as a meaningful change in Apple's efforts in the digital living room. We expect the addition of new content, such as Netflix, in combination with the $99 price (down from $229), will drive higher unit volumes compared to the previous version of Apple TV…The negative on Apple TV is that, with the exception of Netflix streaming and AirPlay content from other Apple devices, the device is still relatively light on content. We see the Apple TV as an important step toward an all-in-one Apple television. We continue to expect Apple to launch an all-in-one Apple television in CY12. As consumers gain comfort with connected TVs and apps on their TVs, we believe Apple will eventually take its all-in-one philosophy to the digital living room like it has with the iMac and the iTunes ecosystem.
Maybe. I'm sure Munster has better sources at Apple than I do, in that I have none. But I'm still skeptical of an all-in-one device given the slow replacement cycle for big-screen TVs compared with portable media players and cellphones. Even Apple might have a hard time getting people to go out and drop another 2-grand on a new TV every time it introduces some new features.
Moreover, unless Apple is also going to be the content service provider for live TV, a big-screen TV is just another commoditized CE device–not Apple's usual turf. While I don't doubt Apple has thought about becoming a service provider — Steve Jobs acknowledged as much back in May — I do doubt it will be able to secure the necessary content rights to offer a competitive service by 2012 (or even 2014 for that matter).
In any case, I think the Rovi deal is more likely to be about cloud storage than live TV or DVR functionality. Rovi is sitting on perhaps the largest single cache or media metadata in the industry. Apple, meanwhile, seems clearly to be moving toward a cloud-based streaming and multi-device syncing model for the media you own and what it hopes you'll acquire through iTunes, rather than one based on downloads, disc-ripping and local storage.
As a practical (and probably legal) matter, cloud-based storage and syncing of media really means storing metadata about the media in the cloud and then delivering it on demand from whatever distributed cache and over whatever platform is most efficient for that use. If some next iteration of iTunes is going to crawl your media collection and then mirror it in a cloud-based metadata locker, was well as import metadata about new content you acquire or "record" virtually, Apple is going to need all the metadata it can get its hands on in advance so that iTunes will recognize the content when it sees it.
I think that's where Rovi comes in.
If you put the content and functionality in the cloud, you don't need to build a big-screen TV with a built-in DVR. All you really need is an essentially dumb streaming terminal on the set-top. Which is more or less what the new Apple TV is.
Further reading:
Licensing Agreement Means Live Apple TV May Be on the Way
Google TV: Can it Prosper Where Apple Failed?