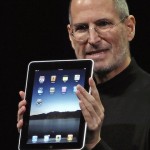 Update: Not only is the iPad running away with the tablet market before others are out of the starting gate, it's running away with the the consumer electronics business. According to a report by Bernstein Research, the iPad adoption rate is now the fastest ever for a CE product , surpassing the DVD player.
Tablets Things are not looking good for would-be iPad competitors. It now seems likely that promised Android tablets will miss the holiday season, as both Google and OEM's work to refine the operating system that even Google admits is not optimized for tablets, while Microsoft can't seem to get out of its own way in mobile.
The iPad, meanwhile, continues to add to its retail leverage for the holiday season, going on-sale Monday at Target stores and Amazon.com in addition to Best Buy locations. Speculation is that Wal-Mart will be next.
According to Deutsche Bank analyst Chris Whitmore, Apple's lead may already be "overwhelming." Aside from sheer numbers sold, Whitmore notes that Apple also has tremendous leverage in the tablet supply chain, locking up most of the world's touch-screen manufacturing capacity and nearly a quarter of the world's supply of NAND Flash.
Further reading:
Analyst: iPad a Want, Then a Need
Motorola Delaying Their Android Tablet Until 'Early Next Year'