AllVid One potentially interesting wrinkle to the controversy over cable MSOs launching iPad streaming apps that hasn't received much attention yet: the possibility that the FCC could have a say in the eventual outcome were the agency to go ahead with its proposed AllVid mandate.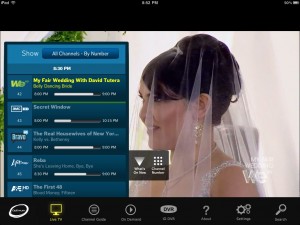 So far, Time Warner Cable's iPad app seems to be drawing most of the ire of the networks. The MSO was forced to drop 11 channels from its app belonging to Viacom, News Corp., Scripps and Discovery Communications after the networks threatened it with litigation. Cablevision's iPad app, on the other hand, launched after TWC's, has thus far escaped the cease-and-desist letters, at least as far as has been reported.
One reason may be technical. Time Warner Cable's iPad service is delivered via a separate IP stream sent by the MSO. In effect, TWC is sending two signals to its subscribers, one over its existing cable plant, and one over the Internet. Historically, programmers have been on solid legal and contractual grounds when insisting on separate licensing agreements (and payments) for distinct methods of delivery.
In contrast, Cablevision's iPad service, as the company was at pains to point out in its press release, travels over the MSO's "proprietary Advanced Digital Cable television network"…"and content is not delivered over the Internet." Once the programming hits a Cablevision-provided cable modem, it gets sent over the subscribers' home WiFi network to the tablet.
That design makes the Cablevision system technically similar to Slingbox, which uncannily has avoided legal trouble (reg. req.) with the networks thus far, despite transmitting cable programming well-beyond a subscriber's home network via the Internet. One likely reason for its Houdini-like escape is that the Slingbox takes its signal directly from a cable or satellite set-top box, rather than relying on a separate (unlicensed) program stream. The networks no doubt hate it, but their lawyers haven't yet come up with a viable strategy to take it down. And in the meantime, pulling signals from a service-provider's STB at least means those views are being counted for ratings purposes — something Time Warner Cable's app doesn't allow but which Cablevision's potentially does.
Yet while Cablevision may be on sturdier legal grounds as far as the networks are concerned, it may find itself on the wrong side of a FCC AllVid rulemaking.
The goal of AllVid, broadly speaking, is to spur a competitive retail market for innovative CE devices that can make use of content from programming services "without the need to coordinate or negotiate" with service providers. It would do that by mandating the use of a standard home gateway by any mutichannel progrmming service coming into the home, whether over cable, satellite, proprietary IPTV network or the public Internet. CE makers would then be able to design devices that interoperate with the standard gateway without having to worry about the ultimate source of the signal.
The FCC is yet to act on its AllVid Notice of Inquiry beyond collecting comments. But you could pretty good argument that what Time Warner Cable is doing, in delivering a separate IP signal in addition to its conventional cable TV signal, is more in keeping with the spirit of the FCC's proposal than what Cablevision is doing in keeping everything tethered to its own physical plant. As a technical matter, it would be easier for gadget makers to design innovative new devices or methods for in-home viewing using a standard IP-video signal than if they had to design devices specific to individual cable systems' STBs.
Cablevision's approach, on the other hand, would cement its own proprietary hardware at the center of any new method for moving MVPD content around the home or onto new types of display devices — not exactly what the FCC seems to have in mind.
If forced to choose, most networks would probably favor Cablevision's approach over Time Warner Cable's, which may be another reason Cablevision has not yet been threatened explicitly with litigation. Under the Cablevision scenario, the networks at least have existing contractual relationships with the MSOs, which gives them leverage to shape any new consumer-use models for their content. The TWC scenario would give the networks far-less leverage.
Whether we'll ever actually get to a point where the FCC would have something to say on the iPad-app controversy remains unclear. But it could certainly alter the terms of the debate if it does.
Further reading:
Cablevision iPad Video App Debuts With 280-plus Channels, VOD
I Want My TWCable App (Time Warner Cable)
Cable Lobby Gripes About Google, AllVid
Update: I may have spoken too soon regarding the networks' response to Cablevision's iPad app. The NY Post reported Tuesday that the YES regional sports network (Yankees, NJ Nets) is the first network publicly to object to being included in the Cablevision app. "Cablevision does not have the right to offer the YES Network in the manner it is doing so on the iPad, and it has been notified as such," a YES Network spokesman told the Post.
The dispute may have less to do with a substantive objection to what Cablevision is doing, however, than with protecting existing contractual relationships. According to the Post, "YES is protesting its presence on the app as it would appear to compete with separate rights sold by MLB, one of the few sports leagues to pioneer digital subscriptions to its games."
Also, Rich Greenfield of BTIG Research has some additional thoughts on the dispute, including this:
Do Not Expect the Dolans to Back Down in this Battle. While Time Warner Cable quickly backed down after receiving cease and desist letters from Discovery, Fox and Viacom, pulling all channels from those programmers from its iPad app, we suspect Cablevision will take a firmer stance (their RS-DVR battle went all the way to the Supreme Court where they proved victorious). Cablevision is providing essentially your entire cable service – using CVC's iPad app feels just like watching Optimum on a television (just faster and more elegant to navigate), no-fast forwarding or pausing (you have to watch commercials which should be positive for programmers), adheres to video-on-demand rules (no fast forwarding during primetime on demand), and at least right now you cannot watch DVR'd programming so you have to watch live or on-demand offerings (again should help live TV ratings once ratings are possible on tablets). While YES Network…has already said Cablevision's app violates their affiliation agreement and others are highly likely to follow suit based on Time Warner Cable's experience, we expect the Dolans and Cablevision to persevere unless a court forces them to take the content down.
That history could be another reason more cease-and-desist letters haven't arrived yet for Cablevision.