Copyright Only a few months ago, it appeared that supporters of the Stop Online Piracy Act had the votes to whisk the bill through the House Judiciary Committee and get it to the House floor before anyone really noticed what was happening. The bill was sponsored by both the chairman and ranking member of the committee and was the top legislative priority of major U.S. industries with a history of generous campaign contributions. The skids seemed more than amply greased.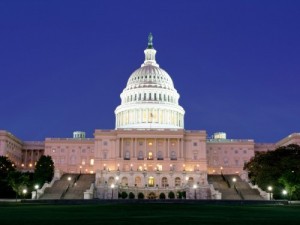 For all that, however, SOPA's supporters weren't quite quick enough. Opponents raised enough alarms that a Judiciary Committee hearing last month expected to be a mere rubber-stamp markup of the bill turned into a contentious, two-day marathon that only ended when Congress itself adjourned for the year. Nearly 70 proposed amendments were offered and the committee barely got through a third of them before chairman Lamar Smith (R-TX) reluctantly brought down the gavel.
In the meantime, opponents of the bill, particularly within the tech community, have continued to organize and agitate, including organizing a boycott against web-hosting service GoDaddy over its initial support for the bill, causing GoDaddy to reverse course and join the opposition. Other companies have also come under fire for their perceived support for SOPA, although whether they ever actually supported the bill as written is unclear.
Most striking, concern over SOPA's impact has led to the emergence of an unusual alliance between left and right, both on Capitol Hill and within the political blogosphere, where generally liberal-leaning tech blogs have been joined in opposition to the bill by conservative bloggers concerned about the bill's potential impact on free speech and with excessive government regulation of the Internet.
SOPA, it would appear, has been stopped in its tracks. But I wouldn't bet on it. Chairman Smith has vowed to resume the markup as soon is Congress is back in session later this month, and there's no reason to think he doesn't still have the votes. For one thing, as data compiled by MapLight.org shows, sponsors and co-sponsors of SOPA in Congress have received four times as much in campaign contributions from the entertainment companies that support the bill than from technology companies that oppose it. Those votes are locked in.
Senate majority leader Harry Reid (D-NV), meanwhile, has scheduled a vote on Jan. 24 on a motion to begin debate on the PROTECT-IP Act, the Senate version of SOPA that passed the Judiciary Committee handily last year but has been blocked from getting to the floor by a "hold" placed on the bill by Sen. Ron Wyden (D-OR). Reid would not be putting PROTECT-IP on the calendar if he didn't think he had the votes to move it forward.
While SOPA (and it's Senate counterpart, the PROTECT-IP Act) has certainly galvanized opinion for and against, it has not yet galvanized the sort of organized money and lobbying operation to oppose it that the entertainment companies have long had in place to support it. While companies like Google, Facebook and Amazon have the ability to use their web sites to organize grass-roots pressure directly on legislators if they chose, as some in Washington have speculated could yet happen, it's hard to imagine their risking alienating powerful committee chairmen at a time when those companies are themselves the subject of increasing Congressional scrutiny.
Capitol Hill in Washington, moreover, is not the only place where the battle over site-blocking legislation is playing out. The Spanish government this week approved a tough new law under which ISPs and others would be required to block sites deemed to be trading in pirated material. In the U.K. last year, the studios were able to force British Telecom and Sky to block access to Newzbin, a members-only site that features links to pirated material. The fight over the blocking of "rogue" sites is quickly going global.
Opposition to SOPA has become a rallying cry for technology companies and others concerned about the unintended consequences of technological mandates aimed at curbing piracy. But there's a big difference between shouting in unison and changing votes. At this point, I don't think opponents of SOPA or PROTECT-IP have the votes to stop them.
Further reading:
GigaOM Pro subscribers can check out my exchange on SOPA with Richard Bennett of the Information Technology & Innovation Foundation here.