There are two ways you could look at Apple's emerging music strategy. It's either extremely ambitious, or Apple isn't sure what to do in music so it's trying everything.
The two need not be mutually exclusive. In fact, no one in the streaming music business seems terribly confident about their own business model right now, even as new players continue to pile into the market.
Apple is widely expected to announce a subscription music streaming service next week at its World Wide Developers Conference, offering unlimited, on-demand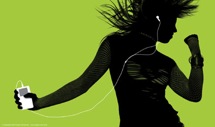 access to music from the major and leading independent record labels for $10 month. That will pit it Apple directly against Spotify, currently the leading subscription streaming service, with 15 million paying users and about 45 million users of its ad-supported free tier.
Unlike Spotify, Apple's on-demand service will not include a free tier. But Apple isn't writing off free music altogether. Far from it. According to the Wall Street Journal, is preparing to relaunch its existing free, ad-supported web radio service, iTunes Radio, adding programmed channels, some of which apparently will be hosted by celebrity DJs such as the rapper Drake, Pharrell Williams and Beats co-founder Dr. Dre, who is now working for Apple. Apple also recently hired away a group of producers and DJs from BBC Radio 1 to help with the programming.
Meanwhile, Apple continues to command 80 percent or more of the music download business, which, though shrinking, is still captures more than twice as much consumer spending as does streaming.
In other words, Apple will have its fingers in all the currently known music streaming business model pies apart from outright piracy (still a major business model for some). About the only thing it won't be doing, so far as we yet know, is adding video to the music streaming mix, as Spotify is now preparing to do.
For its part, Spotify's move into video is part of broader revamp that includes the addition of algorithmically generated recommendations and contextually relevant playlists intended to expand and diversify its revenue streams ahead of an expected IPO. The move into video, which will pit Spotify directly against YouTube and Facebook, will make Spotify more dependent on non-music related advertising revenue even as the record labels pressure the company to generate more revenue from subscriptions.
The move into recommendations and programmed playlists represents a move away from Spotify's original value proposition of on-demand access to user-selected music.
Apple's and Spotify's embrace programmed channels also moves them closer to the model staked out by Pandora, which relies on limited input from users to generate personalized channels (or "stations" as Pandora calls them) algorithmically. Meanwhile, Pandora itself, which has struggled to turn a profit from advertising despite 79 million regular users, is trying to broaden its focus beyond providing programmed playlists for consumers to becoming a data provider to artists and record labels. Last month it acquired music analytics firm Next Big Sound to add analytics to the data-driven Artist Marketing Platform Pandora launched last year.
Even YouTube, which remains the most popular site on the web for listening to music, is preparing to expand beyond its ad-supported model with the upcoming launch of its ad-free subscription music service Music Key.
Artist-owned Tidal's business model remains very much a work in progress.
One reason for all the moves is simply competition. With more players in the market the need to differentiate yourself by adding new features and services is paramount. But the groping after a workable business model also reflects the tight economic constraints within which commercial music services are operating.
Simply put: the total market for recorded music simply isn't that large and on a per capita basis it's actually shrinking. For several decades, consumer spending was inflated by the dominance of the multi-song album configuration — bundles tend to increase spending, just as the cable guys — but once digital began to break up the bundle per capita spending on music began to fall.
Last year, according to Statista, per capita spending on music in the U.S. was $105, but nearly half of that ($48) was spent on live music, not to acquire or access recorded music.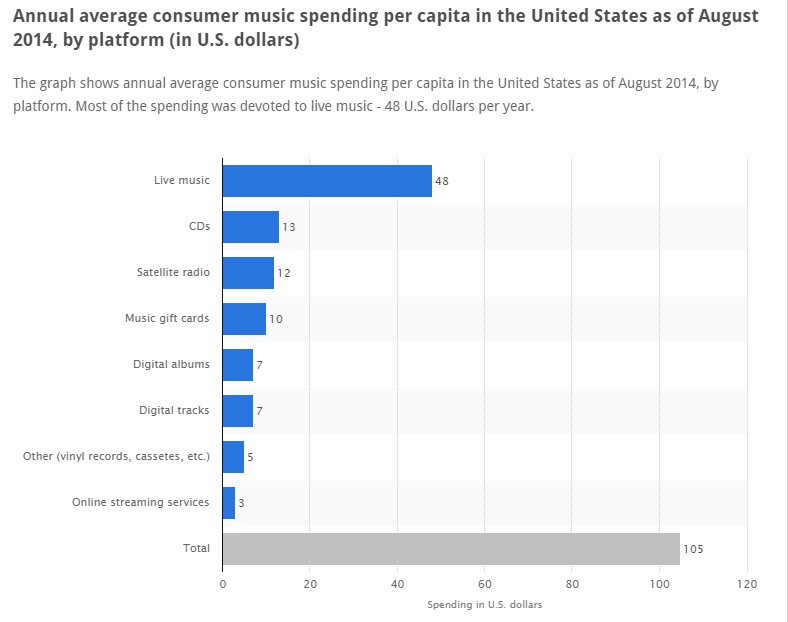 Among the 110 million people who bought music at the iTunes Store last year, according to the Wall Street Journal, the average customer spent a little more than $30 in a 12 month period. And even that figure is somewhat misleading because it's an average, and no doubt pulled up by a relatively small number of power users who spent multiples of that amount. The typical, or median iTunes music buyer likely spends far less than $30.
Even at its peak, in 1999, the average amount spent by active music buyers worldwide was $64, according to the industry trade group IFPI. Total per capita spending that year, including people who did not buy any music, was $28.
Apple no doubt is keenly aware on those numbers, which is why, according to earlier reports, it wanted to price its planned subscription service at $7.99 a month. But the labels balked and Apple will now reportedly price the service at $10 a month, the same as Spotify.
That adds up to more than twice what the average music buyer has spent on recorded music per year historically, and probably three or four times what the typical buyer has spent. It's simply unrealistic to imagine you can build a robust business on the small slice of the music buying public capable and willing to spend $120 a year for access. There's no historical precedent for it.
For all that the labels want to steer the business toward paid subscriptions, free, ad-supported channels — what we used to call radio — is an inescapable necessity for a sustainable streaming music business. The only realistic option is to attract a substantial user base and than monetize that community of users through a mix of business models and revenue streams.
That means multiple service offerings, at multiple price points — including free — on multiple platforms in multiple territories, and multiple places in which to bump up against competitors.
It's a shame that the current system for licensing music for different use cases is so rigid at a time when experimentation and flexibility are at a premium, but that's a topic for another day.