As expected, Apple's new music strategy is to try to be all things musical to all people. Or almost all people.
The newly christened Apple Music, unveiled Monday at the World Wide Developers Conference, includes a $10 a month streaming service that offers on-demand access to Apple's 30 million song library, along with cloud storage and playback of your own music collection and the option to let Apple's experts curate personalized playlists for you. It also includes a free, ad-supported internet radio service featuring featuring celebrity DJs and what Apple is billing as the world's first 24-hour global radio station, Beats One. It also includes a reboot of Ping, Apple's failed social media platform, now called Music Connect and featuring artist pages.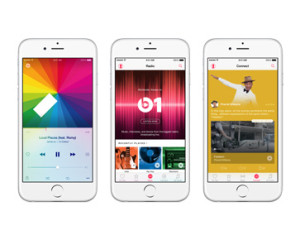 You can also, of course, continue to purchase downloadable tracks and albums from the iTunes Music Store.
About the only thing Apple Music does not have is the sort of free, ad-supported on-demand tier that has helped make Spotify the world's largest on-demand streaming service.
The lack of a free on-demand tier is partly Apple's preference: It didn't spend $3 billion to acquire Beats' subscription-only music service last year to get into the free streaming business. But no free tier was also part of Apple's pitch to the record labels, publishers and artists, all of whom have been agitating to get more people paying for music online, notwithstanding consumers' demonstrably limited appetite thus far for paid streaming: Give us what we need to crush our rivals, Apple suggested, and we'll do for paid streaming what they couldn't.Apple being Apple, it will no doubt get its share of paying subscribers and perhaps even expand the market overall. At a minimum, some number of fanboys who currently use Spotify or Rdio will no doubt make the switch (shares of Pandora, Rhapsody and other rivals swooned in the wake of Apple's announcement). But as Re/Code's Peter Kafka noted in a smart post ahead of Monday's reveal, simply "insisting that people pay for music won't make people pay for music. Especially when you're asking them to pay $120 a year for music — much, much more than music fans ever paid in the good old days of the CD era."
The list of cases where a sector of the media industry successfully engineered a favorable shift in consumer spending, in fact, is not a long one. And it's likely to take more than jawboning and celebrity DJs to pull it off in music streaming.
One of the few successful examples occurred with the introduction of the DVD format in 1996, which brought a dramatic shift in consumer spending on home entertainment from renting movies for a night or two to buying and collecting them.
Underlying that shift in behavior, however, was an equally dramatic shift in the value proposition offered to consumers by the new format. For a variety of reasons (manufacturing costs, studio margin demands, consumer perceptions, copyright law) VHS cassettes typically carried nominal list prices of $100 or more, based on wholesale prices of $60-$70. A good-size hit shipped a few hundred thousand copies, nearly all of which were bought up by special video rental stores. Only a handful of titles each year, mostly kids movies, were priced below $30 in anticipation that enough consumers would choose to buy them instead of renting them to make up the lost margin in volume.
DVDs, however, had markedly lower manufacturing costs than VHS cassettes — pennies on the dollar — because they could be stamped out at high speed, had no moving parts and used many fewer materials. Suddenly it was possible to price movies at $25 or less without sacrificing margin. While consumers were still free to rent DVDs — and retailers to offer rentals — the lower prices fundamentally changed consumers' calculus. For $15-$20 you could buy a DVD at Walmart and be spared the inconvenience of having to return it to the store and the threat of late fees. The lower price point also broke the monopoly of specialty stores, greatly expanding retail availability and all-but eliminating the risk that the movie you wanted to watch that weekend would be unavailable.
The result was a huge spike in consumer spending on home video and Hollywood's greatest windfall since the invention of talking pictures.
Even in that case, however, the effect was temporary. Once on-demand streaming came along, undercutting the value of ownership, consumers' calculus changed again, and consumer spending began to ebb. So far, Hollywood has yet to come up with a new value proposition attractive enough to reverse that slide.
The music industry, of course, knows a thing or two about declining consumer spending. The question, for both Apple and the record labels, is whether tinkering with the features of on-demand streaming will be enough to change its basic value proposition.