Trying to figure out what the stealthy startup Layer3 TV is planning to unleash later this year has become something of a parlor game among pay-TV industry watchers. The VC-backed company, founded in Boston by two cable-industry veterans but now headquartered in Denver, has said little about its plans beyond its goal to become "a next generation cable provider spearheading a new era of home media, combining the best of television, social, and digital life." How it plans to do that, though, remains a closely guarded secret.
The company's name — Layer3 — refers to the 7-layer TCP/IP stack, specifically the packet routing layer, which may be a hint. And its two co-founders, Jeff Binder and

Dave Fellows, are a couple of confirmed gear-heads. Binder was the founder of VOD systems provider Broadbus Technologies, which was sold to Motorola in 2006, while Fellows is a former CTO at Comcast and AT&T Broadband. So it's reasonable to assume that whatever Layer3 is planning will leverage existing cable-cum-broadband plant.
The announcement of a second-round of funding in June that raised $51 million offered further hints.
"Cable television may have dominated the business press this year but consumers continue to crave a simple, yet elegant, solution for managing the newest innovations in video, social and digital," Binder said in a statement. "Layer3 TV is the new cable — putting subscribers at the center of the universe by giving them seamless control of their entertainment relationships."
Lead investors Evolution Media Partners and North Bridge Venture Partners connected a few more dots:
"Layer3 TV's platform is proof that technology and consumer experience can be aligned with programmers' goals and objectives. Layer3 TV is rapidly becoming a trusted and valued partner to the content community by enabling consumers to engage with all of the content being distributed through various platforms," said Rick Hess, founder and co-managing partner at Evolution Media Partners.

Added Jamie Goldstein, a partner at North Bridge, "From inception, Jeff's and Dave's vision of Layer3 TV has been to build the very best cable company and layer in the most cutting edge technology available. Their integration with social media, Internet of Things and diverse universe of content choices will make Layer3 TV the ultimate center of the living room," said.
Last week brought yet more details via an ex parte filing with the Federal Communications Commission with respect to the FCC's proposal to classify some online video distributors as multichannel video programming distributors, making them eligible for program-access rights but imposing at least some of the same restrictions and obligations faced by traditional MVPDs.
It appears from the filing that the FCC asked Layer3 to analyze the proposal and to brief the agency on its plans. Here are the relevant (albeit lawerly) paragraphs: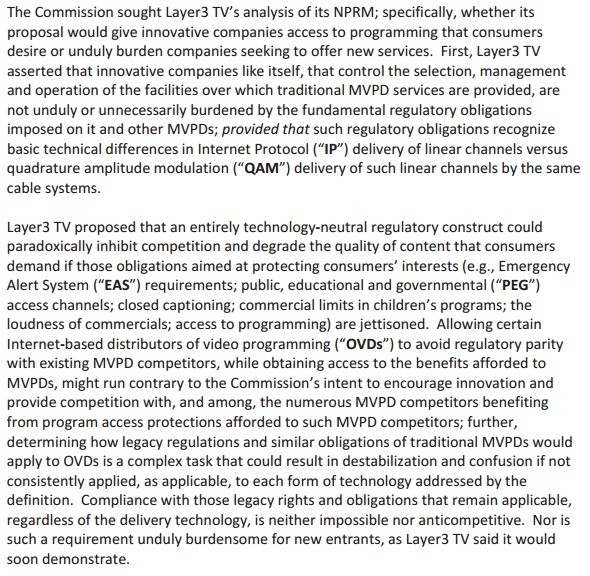 There's a lot to unpack there, but what it sounds like Layer3 TV is describing is something that amounts to a facilities-based OTT service. That should certainly create some interesting definitional challenges for the FCC as it tries to decide who and what should qualify as a MVPD.