The original five-year mission of the Starship Enterprise was to explore strange new worlds and to seek out new lives and new civilizations. When it next leaves space dock, in 2017, it's mission will be to explore a new strategy for transporting network TV content over-the-top.
CBS this week thrilled Trekkers throughout the galaxy by announcing the debut of a new, as yet untitled Star Trek series in January 2017, the first new series since the cancellation of "Star Trek: Enterprise" in 2005. But in a plot twist worthy of a Romulan cloaking device, the series will only be viewable in the U.S. on CBS All Access, the network's $5.99 a month over-the-top streaming service.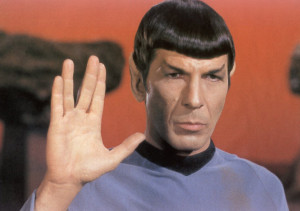 The move caused many a media head to be scratched. CBS hasn't disclosed how many subscribers CBS All Access has, but it's almost certainly fewer than a million, a tiny fraction of the audience reach of CBS itself. Even if CBS wanted to make the new series streaming-only, Netflix has 40 million U.S. subscribers, Amazon Prime Video isn't far behind, and Hulu has more than 9 million.
CBS All Access is sure to grow between now and 2017, of course. The app is on the new Apple TV and other OTT platforms, and the network continues to negotiate with the NFL for streaming rights to at least some of the games CBS currently broadcasts, all of which should help drive subscriptions. But even with those opportunities it isn't going to reach Netflix-like numbers by 2017, and maybe not even Hulu numbers. So why such a small platform for such a big franchise like Star Trek?
"A lot of conversation went into what we were going to do [with Star Trek]," CBS CEO Les Moonves explained to analysts during the network's Q3 earnings call.  "We're looking to do original content on All Access and build up that platform. Netflix is our friend a competitor. They compete with [CBS-owned] Showtime. All Access will put out original content and knowing the loyalty of Star Trek fans, this will boost it."
CBS, in other words, is beginning to figure out that it needs to differentiate its over-the-top product from its linear product beyond simply providing additional ways to view CBS content.
As Re/Code and others reported this week, the TV networks are starting to have serious second thoughts about licensing their content to Netflix and other digital services. Netflix has effectively used network content to build up its own brand and business while also drawing viewers and subscribers away from traditional TV platforms, where the networks still make the bulk of their revenue. Even Hulu, which is owned by the parents of ABC, Fox and NBC and was designed to preserve the advertising model on digital platforms, has become destructive to the networks' core business, in the view of BTIG Research analyst Rich Greenfield.
Keeping digital syndication in-house, through CBS All Access, may be a less dangerous model. But if all it amounts to is a port of CBS's linear channel, or Hulu without content from the other networks, it will simply create conflicts with CBS's current distributors while perhaps never growing large enough to fully offset the inevitable erosion of traditional TV viewing.
Having gorged themselves for the past few years on easy money from Netflix and others, the networks are belatedly realizing they need a digital strategy that actually adds strategic value to their business rather than simply shuffling it around, or worse yet bleeding it away. CBS's answer appears to be to try to turn CBS All Access into a premium channel. That means exclusive content and a premium experience — a piece of the puzzle Moonves hinted at when he suggested CBS All Access might eventually introduce an ad-free tier at a premium price.
Star Trek would certainly qualify as premium content, although creating a new series worthy of its predecessors won't be cheap. Fortunately for CBS, Star Trek is a global franchise so the network should be able to lay off a significant portion of the costs of producing the series through international licensing, including to traditional TV channels outside the U.S. It would also be surprising if CBS All Access had not introduced an ad-free tier by the time the new Enterprise crew beams down. But the likely scale of the investment is a measure of how far CBS believes it needs to go to create a long-term over-the-top asset.
CBS isn't the only network waking up to the need to differentiate their OTT product from their linear channel, however. While CBS was announcing the new Star Trek, HBO unveiled a new exclusive four-year production deal with former "Daily Show" host Jon Stewart worth an undisclosed but undoubtedly quite substantial amount of money. The first project under the deal will involve Stewart, along with the pioneering cloud-based digital graphics company OTOY Inc., creating "timely short-form digital content" for HBO NOW and HBO GO, "which will be refreshed on HBO NOW multiple times throughout the day."
In other words, HBO NOW, which was launched as a standalone over-the-top version of HBO's linear channel, will be getting exclusive, premium content presented in a way that leverages the OTT channel's non-linear, digital capabilities.
For linear TV networks launching OTT plays, differentiation is now the prime directive.