Amazon on Tuesday unveiled its expanded Prime Instant Video service and it seems to be more or less as advertised. Prime subscribers will now be able to add subscriptions to other over-the-top streaming services, including Showtime, Starz and an array of niche channel for prices ranging from $3 a month to $8.99 a month for Showtime, on top of the $99 annual price ($8.25 per month) for Prime.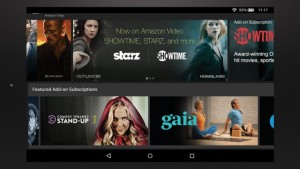 Channels can be ordered a la carte, and subscribers can change their line ups each month. Prime subscribers can also user their Amazon credentials to log in to any of the standalone apps for their add-on channels on other streaming platform, which means Prime subscribers can watch Showtime on Apple TV despite the absence of Prime on the Apple set-top box.
For the participating networks, the expanded Prime means forgoing a direct relationship with subscribers, as Amazon will handle all billing and customer service functions, presumably in exchange for a cut of the add-on subscription fees, while gaining the leverage of Amazon's reach and merchandising strength.
As explained in Amazon's pitch to the networks, "With the Streaming Partners Program (SPP) you can get your video subscription in front of Prime members right in the Amazon Video app. With SPP, we merchandise your videos on hundreds of devices, handle all the streaming infrastructure, plus provide customer service and billing. Best of all, SPP can help you scale your business and reach more customers."
By coincidence, Tuesday also brought second-hand confirmation, from CBS CEO Leslie Moonves, that Apple has abandoned, at least for now, it's own plans to offer a subscription OTT service featuring live programming and linear channels.
"They've had conversations on it, and I think they pressed the hold button," Moonves said at the IGNITION conference in New York, although it's be fairly obvious since the introduction of the latest version of the Apple TV set-top box that launching its own subscription service was no longer at the heart of Apple's TV strategy.
From the chipset, to the OS, to the app store and SDK, Apple has positioned Apple TV as a development platform for third-party apps.
"We believe the future of television is apps," Apple CEO Tim Cook helpfully declared at the unveiling — a belief reiterated just this week in a new TV ad for the set-top box.
While it's not inconceivable that Apple could try to walk down both sides of the street at the same time (as it is doing, haltingly, with Apple Music and Beats 1), in this case Apple seems to have decided to stick to what it's good at.
The difference between Apple's approach and Amazon's is the difference between TV as a platform and TV as a service. It also reflects the different orientations of Apple the technology company and Amazon the retailer: Technology companies build platforms; retailers sell services.
But the divergent approaches also present media companies with a fundamental question about the future of television: Should and will TV continue to delivered as a service, albeit on-demand and a la carte, or, should TV now be viewed as a platform on which to build new types of experiences featuring new types of programming?
The platform model promises much greater direct-to-consumer interaction than media companies have enjoyed under the traditional pay-TV model, with all the marketing, branding and data-gathering benefits that come with it. But they would lose the merchandising and sales leverage that comes with working through service providers.
If TV content continues to be bundled into service, as Amazon is proposing, the media companies would continue to suffer the same lack of access to the customer they suffer from under today's pay-TV model, but they gain the leverage of Amazon's enormous reach and merchandising clout without having to invest as heavily in learning to manage direct-to-consumer relationships.
The answer to that puzzle lies in large measure with consumers, of course. Both Amazon and Apple are betting that their respective strategies will allow them to grab a lion's share of consumer OTT dollars. Amazon is gambling that consumers will still prefer to pay for their TV content in a single bill, from a single service, so long as they're able to choose the content of that service. Apple is betting that developers will create enough compelling TV experiences to seduce consumers to stay within the App Store ecosystem.
The stakes are obviously high for the media companies, but at least the choices are becoming a little clearer.