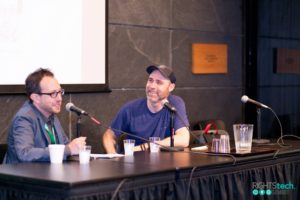 PledgeMusic CEO and founder of the DotBlockchainMusic project Benji Rogers was interviewed by Robert Levine, author of "Free Ride" and a former executive editor at Billboard, during a keynote conversation at the inaugural RightsTech Summit on July 26 in New York. Among the topics they discussed was the potential for blockchain technology to create an immutable but endlessly updatable ledger of "digital truth" regarding the ownership and priority of sound recordings and musical compositions.
Co-produced by Concurrent Media Strategies and Digital Media Wire, the RightsTech Summit brought together over 100 senior media and technology executives, thought-leaders, entrepreneurs, and artists from across multiple media and entertainment industries for a wide-ranging discussion of technology innovation around the registration, management and licensing of media rights on digital platforms. The next RightsTech event will be held in New York in September in conjunction with Digital Media Wire's New York Media Festival.
Video of Benji Roger's keynote is available here. We'll have audio from several other sessions from last week's Summit up shortly.
(Video courtesy of SlidesLive).