YouTube this week formally unveiled its long-gestating linear over-the-top services, YouTube TV, which will feature a skinny-ish  bundle of about 40 live channels for $35 a month. When it begins rolling out later this year in select cities YouTube TV will join Dish Network's Sling TV, AT&T's DirecTV Now, and Sony's Playstation Vue in the linear OTT sweepstakes, and will soon by joined by a previously announced entry by Hulu and perhaps one from Apple.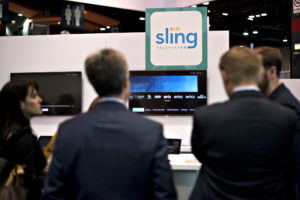 As with those other services, however, the lineup of channels in YouTube's bundle is a bit of a hit and miss affair at this point. Subscribers will get all the major broadcast networks, along with ESPN, USA, Bravo, Fox News and MSNBC, but no CNN, Turner or TBS, and no Viacom-owned networks.
Sling TV will get you CNN and Turner but the broadcast networks are only available in select markets, and again, no MTV, Nickelodeon or Comedy Central.
DirecTV Now will sell you a big bundle of 100 or so channels at the skinny-bundle price of $35 a month, but so far AT&T hasn't figured out how to deliver it to you without its crashing.
Sony's $35 "Core Slim" package gets you NBC and Fox but not CBS or ABC.
The quirks in the various OTT bundles are not by design, at least on the part of the service providers, but necessity. The networks so far have largely refused to (and in some cases contractually can't) offer carriage deals to OTT providers a significantly lower prices than they offer their existing pay-TV affiliates, and so, to keep consumer prices down, the OTT providers have had to leave out a lot of channels they might like to carry.
Worse for the providers, the media companies have largely stuck to their own inflexible bundling policies of requiring operators to take all, or at least most, of their channels in order to get the most popular ones, and dictating placement in tiers.
Thus, while YouTube might be happy to include CNN as part of a skinny bundle the economics might not work if it means including Turner and TBS as well. Ditto Viacom's MTV and Nickelodeon, but not if it means including — and paying for — VH1 and Spike.
That sort of bundling — forced carriage in the view of many traditional pay-TV operators — has long been at the core of the networks' dual-revenue stream business model. And they're obviously reluctant to give it up. But in the context of skinny bundles it creates a zero-sum dynamic in which some networks get cut out altogether, and which could erode the networks' leverage in the long run.
The big bundle has been very good the media companies for a long time. But insofar as skinny bundles will be any part of the industry's future, forcing operators — whether traditional or virtual — into a crude, cost-based strategy through inflexible carriage deals is not a formula for growth. Allowing operators greater flexibility in how they assemble bundles might allow them to compete by targeting and super-serving specific segments of the market, as fuboTV is seeking to do with its live-sports focused bundle.
Any consumer marketer will tell you that segmentation is critical to maximizing revenue. For all the millions of dollars the networks have spent over the years to build and promote their brands, their real, revenue-producing customers have been pay-TV operators and advertisers, not consumers. As far as consumers went, everybody got more or less the same bundle of channels and saw more or less the same ads.
Digital platforms are giving consumers a much greater voice in the matter than they've had in the past, however. And as the big bundle breaks down, and the business becomes more consumer-driven, the tools of consumer marketing — like market segmentation — will need to play a bigger role in how content is packaged and sold. But they can't if packagers and marketers have their hands tied.