Amazon won the auction for live-streaming rights to this season's Thursday Night Football franchise with a bid of $50 million dollars for a package of 10 games. That's 5 times what Twitter paid last year for essentially the same deal: Amazon will share the games with NBC and CBS and will stream the networks' feeds, including their ads. Amazon will also be able to sell a handful of ads per game itself.
The games will be available for free to Amazon Prime members.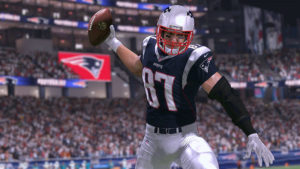 Although the 5X increase in price is impressive — and was probably too rich for Twitter — $50 million is still pretty small beans, both for the league — whose deals with the broadcast networks run into the billions — and for Amazon, which has $20 billion on its balance sheet. For both, it's largely an add-on business at this point.
For the NFL, streaming is still largely an experiment aimed at finding a way to reach cord-cutters and out-of-home viewers, and to test the viewership waters outside the U.S., not to supplant its traditional broadcast deals. For Amazon, the NFL deal is a way to enhance the value of a Prime subscription and to attract to new subscribers at a relatively modest price.
It's also only a one-year deal, which means Amazon's ambitions for the deal are likely muted at this point. It wouldn't be surprising, in fact, to see the NFL change partners again next season as it continues the beauty contest to see what different streaming platforms can do for the game and for the league.
Yet it should still make the TV guys nervous. The NFL is the marquee sports franchise in the U.S., and if nothing else the deal is a clear signal that Amazon is serious about live sports at a time when the broadcasters are seeing viewership decline, both in their own NFL broadcasts and in their other live-sports franchises, even as they remain locked into long-term deals with escalating rights fees.
Having a new deep-pocketed competitor enter the game is rarely good news under any circumstances and certainly not under those.
Amazon has more to its game than deep pockets, however. A big part of any future revenue growth for sports leagues and teams, including the NFL, is likely to come from e-sports.  And Amazon owns the largest e-sports broadcast platform in the world in Twitch.
The NFL plans to start hosting Madden 2017 tournaments in its stadiums this year as part of a deal with EA Sports, while the NBA recently announced plans to launch its own e-sports league in partnership with Take Two Software.
Eventually, Amazon's ability to marry live game broadcasts with related e-sports competitions — to say nothing of licensed merchandise sales and everything else Amazon could layer on — is likely to make it an even more potent competitor for live sports rights to the traditional linear networks.
As noted here in a previous post, moreover, Twitch and e-sports might be the best platform for the NFL and other sports leagues to reach the 18 to 24 year old demographic, where the drop-off in live-sports viewing on traditional platforms has been most pronounced.
It should be noted that YouTube, another potential future streaming partner for the NFL, is also hard on Twitch's heels in the e-sports race and could emerge as another major competitor for live-sports rights, and just as important, live viewers.
Even without the e-sports angle, Twitch holds the potential to become a formidable broadcast platform for live programming. Even more than YouTube it's inherently social, interactive and engaging, and like YouTube has a huge global user base. For now, Prime is the more suitable platform for retransmitting linear broadcast feeds, so that's where you'll find Amazon's NFL streams. But insofar as live programming — including live sports — becomes less linear over time and more interactive and social, the most suitable platform could prove to be more like Twitch than like CBS and NBC.