Hulu's virtual pay-TV service went live in selected cities this week, offering a basic bundle of 60 channels for $40 a month ($73 a month with enhanced DVR capability). The launch, still officially in beta, brings to six the number of live, multichannel over-the-top services now available, including DirecTV Now, Sling TV, Playstation Vue, YouTube TV, and Fubo TV. More are likely on the way.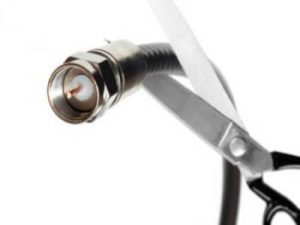 But while Hulu was rolling out, many traditional pay-TV providers were rolling over. According to an analysis by MoffettNathanson analyst Craig Moffett, based on publicly reported results and estimated results for privately held companies, traditional pay-TV providers collectively lost at least 762,000 video subscribers in the first quarter of 2017, more than five times their losses in the same period last year.
"For the better part of fifteen years, pundits have predicted that cord-cutting was the future. Well, the future has arrived,"  Moffett wrote in his latest quarterly overview of the industry. "It leaves the Pay TV subscriber universe shrinking at its worst ever annual rate of decline (-2.4%). And it was the worst ever accelerate in the rate of decline (60 bps)."
The news spooked investors, who sent shares of media companies tumbling.
On one level, the sell-off was a typical short-term over-reaction. While subscriber counts are down on traditional platforms, the networks are presumably recapturing at least some of those cord-cutters through OTT services. Having more buyers in the market, moreover, ought to drive up prices overall in the long run.
The media companies have also managed to hold much of the pay-TV bundle together in the transition from traditional to OTT platforms, at least for now. While the "skinny" bundles offered by OTT services leave less room for marginal networks, an analysis published by Bloomberg this week shows that the media companies have still been able to use their leverage to pad OTT channel lineups with low-rated networks that nonetheless generate carriage fees.
The cheapest and skinniest OTT bundle remains Sling TV's basic tier, the first to roll out, which includes 30 channels for $20 dollars a month. Since then, however, the media companies have managed to expand the basic OTT "skinny" bundle up to a fairly hefty 48 channels (YouTube TV) and as high as 67 (DirecTV Now). Basic tier prices, meanwhile, have nearly or fully doubled, to $35 a month (YouTube, Fubo, DirecTV Now) and $40 (Hulu, Playstation Vue).
Yet there is another, less noted sort of unbundling underway that should be cause for concern for media companies and their investors: the unbundling of pay-TV service from broadband service.
Despite subscriber losses and declining viewership, the media companies have been able to drive up carriage and retransmission fees over the last five years largely by capturing revenue from cable operators' broadband business. That capture is sometimes framed as offering operators additional rights, such as TV Everywhere and VOD rights. But however it's packaged, operators have only been able to absorb those higher fees in the face of video subscriber losses because of the high margins they earn from the broadband side of their business.
Satellite pay-TV operators by contrast, who do not have a broadband business to speak of, have responded to higher programming costs either by selling themselves to a broadband company (DirecTV) or shedding satellite subscribers as fast as possible and building their own OTT service (Dish).
Pure OTT services like Hulu Live, are situated similar to satellite providers, in that they cannot also offer broadband service to their subscribers. Their TV service must be sustained entirely by TV subscription fees. And as the Bloomberg analysis makes clear, the high cost of content has them operating on the razor's edge of profitability.
The long-term challenge for the media companies is that, as the TV business shifts from traditional to OTT platforms, regardless of the size of the bundle, an increasing share of their subscribers will be coming from distributors whose ability to absorb future increases in programming costs will be constrained.
One way or another, the TV business is currently being propped up by a cross-subsidy from cable operators' broadband business. Take that prop away and things could get a lot shakier.