Amazon won the auction for live-streaming rights to this season's Thursday Night Football franchise with a bid of $50 million dollars for a package of 10 games. That's 5 times what Twitter paid last year for essentially the same deal: Amazon will share the games with NBC and CBS and will stream the networks' feeds, including their ads. Amazon will also be able to sell a handful of ads per game itself.
The games will be available for free to Amazon Prime members.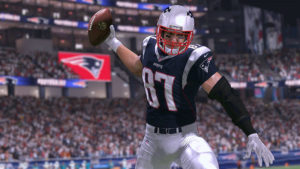 Although the 5X increase in price is impressive — and was probably too rich for Twitter — $50 million is still pretty small beans, both for the league — whose deals with the broadcast networks run into the billions — and for Amazon, which has $20 billion on its balance sheet. For both, it's largely an add-on business at this point.
For the NFL, streaming is still largely an experiment aimed at finding a way to reach cord-cutters and out-of-home viewers, and to test the viewership waters outside the U.S., not to supplant its traditional broadcast deals. For Amazon, the NFL deal is a way to enhance the value of a Prime subscription and to attract to new subscribers at a relatively modest price. Read More »