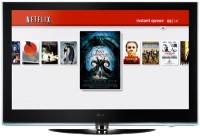 Streaming Video Of the 22 brokerages providing research coverage of Netflix (NFLX), only one,  Piper Jaffray, has a current target price above Monday's opening price of $191 a share. The average target price is $140 a share and the median target is $141, according to Thomson/First Call, indicating a pretty solid consensus among professional analysts that Netflix shares are highly over-priced at the moment.
Ironically, the view that Netflix shares are over-priced may be one factor contributing to the stock's recent run-up. More than 30 percent of the shares are currently held short, reflecting the analysts' bearish sentiment. But each day the stock fails to fall, some shorts no doubt get nervous and start to cover their positions by buying shares, nudging them further upwards — the classic "short squeeze."
Yet the growing gap between where the stock is trading and what the experts think it's really worth is also leading Netflix bears to sharpen their critique of the company's overall strategy, in particular its move to offer a $7.99 streaming-only option in the U.S., matching a similar move last month in Canada.
The bears' case goes basically like this: Average revenue per user (ARPU) — a critical metric for any subscription service — has been falling steadily at Netflix for at least the past five quarters as users gravitated toward lower-priced offerings like the one-DVD-out plus unlimited-streaming package for $8.99 a month (as illustrated in the chart below compiled byWill Richmond of VideoNuze). With the introduction of a $7.99 streaming-only option, the declining-ARPU trend will continue and perhaps even accelerate.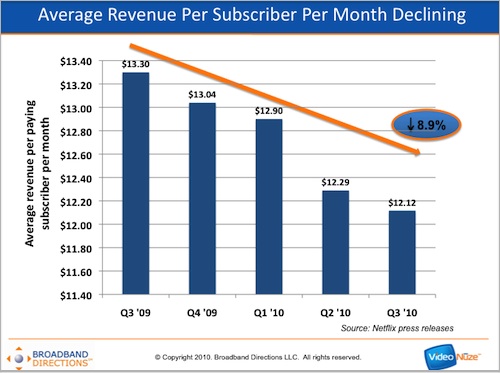 The shift in its business to streaming, meanwhile, is driving up Netflix's content costs significantly. As Dian Chu of EconForecast wrote in a blog post last week:
Netflix already disclosed that it had $1.2 billion in commitments to pay for streaming content in Q3, up from just $115 million at the end of last year. And since its streaming library is still quite limited without the depth of its DVD content, Netflix will need to increase its streaming selection.

And inevitably, content will only get more and more expensive, which would suggest ever-increasing fees putting margins under pressure.
At the same time, the move into streaming will pit Netflix against the likes of Apple, Google, Hulu, Amazon and other formidable competitors. As David White wrote last week on the Seeking Alpha website, "It is leaving its niche as a DVD supplier to emphasize a streaming niche that numerous and formidable competitors do and will inhabit. This list includes Amazon (AMZN), Apple (AAPL), Google (GOOG), Coinstar, Bestbuy (BBY), HULU, etc."
Writing on the same website, long-time NFLX-watcher Karl Denninger warned that Netflix could also face resistance from ISPs as its streaming business begins to devour their bandwidth, often at the expense of their own streaming services:
On a forward basis I think these guys [Netflix} are digging their own graves. Moving toward a fully-online content delivery system sounds great, but it's only great because they're poaching other people's build-out costs. Theirs are near zero; their only recurring cost is for whoever they pay for distribution. But in the Internet world that's people like Akami (AKAM). It's not the people who built the lines into your home; those are Netflix's competitors in this case!

[snip]

Watch the margins and the operating leverage, along with any signs of serious pushback from the "last mile" folks. The latter I expect to see in earnest within three to six months, tops.
I'm not qualified to offer an opinion on Netflix's share price (for the record I don't own any). But I'll quibble with some elements of the bears' strategic analysis.
My few cents:
I agree with Diane Mermigas that Netflix is largely insulated from "empire building by Apple, Google, Amazon and Sony" because Netflix offers a very different value proposition to consumers, one based on low-cost and convenience rather than timeliness. That's why the Netflix streaming app is one of the very few third-party apps available on Apple TV. Clearly, Apple sees Netflix's subscription service as complementary to iTunes; otherwise, it wouldn't be there.  While Apple or Amazon could certainly start their own subscription service, they'd be starting from nearly 20 million subs behind and they wouldn't have the leverage of all those DVD users from which to build their base of streaming subscribers.
While the need to secure streaming rights is driving up Netflix's content costs, other costs are coming down as a result of the shift to streaming. One area of savings, obviously, is postage. But Netflix's strategy of embedding its streaming app in virtually every connected device that comes out, from smartphones to Blu-ray players to HDTV sets, is allowing it to recruit new subscribers at very little cost. That's one reason its subscriber acquisition costs (SAC) — another critical metric for subscription businesses — fell 26 percent between Q3 2009 to Q3 2010, from $27 per sub to $20. Thus, while ARPU may be coming down, so too are the costs of recruiting and servicing subscribers, suggesting the fear of margin erosion caused by falling ARPU may be overblown.
Many of those connected devices with the Netflix app embedded are only just now being rolled out by their manufacturers. The big impact on subscriber recruitment for Netflix, therefore, has not even been felt yet. That's likely one reason Netflix is introducing the new low-priced streaming-only option now: to be ready when all those new connected devices come online next year and beyond.
Netflix recently consolidated all of its CDN business with Level 3 Communications, shifting it away from Akamai and Limelight Networks. As part of the deal, Level 3 will not only be handling all of Netflix's CDN business, but will be storing its entire streaming library — now at 20,000 titles — as well. That tells me Netflix, wisely, has decided not to go into the business of running big data centers even as it ramps up its streaming business. Instead, it is outsourcing that function — along with the capital costs associated with it — to Level 3. Managing its capital spending carefully as it moves into streaming will be critical for Netflix because  at some point it's going to have a lot of under-utilized DVD shipping centers to write down.
Eschewing the data-center business is also suggests Netflix is content for now to position itself as a content aggregator and service provider, rather than trying to be a full-blown platform provider like Apple (another reason Netflix's streaming app is now on Apple TV).  That leaves Netflix free to act as arms supplier to all sides in the rapidly escalating platform war over the digital living room.
To reiterate, none of the above should be taken as a recommendation to either buy or sell the stock. That's not my racket. It simply means that I think Netflix's strategic position is stronger than some of its critics make it out to be.