Digital Living Room Looks like my confident claim last month that "The iCloud will not be televised," was bunk. Apple released a software update for Apple TV today that adds limited iCloud support.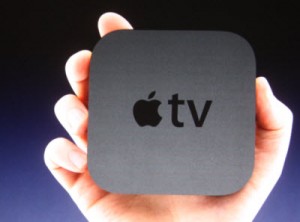 Apple TV owners will now be able to watch TV shows they have previously purchased from iTunes through the set-top box. The content will be stored remotely in iCloud instead of on the Apple TV device itself, which has very limited on-board storage. Ironically enough, the new Apple TV feature is actually the first implementation of iCloud, as the audio service hasn't actually launched yet.
Users can also now purchase new TV shows directly through Apple TV for storage in iCloud. Previously, Apple TV was streaming rental-only.
Today's update also adds support for video hosting platform Vimeo. Users can now browse the Vimeo library through the Apple STB, check their Vimeo inbox and tag videos for later viewing.
Not clear if adding support for Vimeo is in any way related to Vimeo's own announcement today that it is launching a new Vimeo Pro service that will compete with Brightcove and Ooyala.  There wouldn't appear to be any connection, but perhaps there's more to Vimeo's strategy than it has revealed so far.