Digital Publishing A key nugget from the Pew Center's annual State of the News Media report, out today, neatly captures a critical dynamic of the online content economy that makes it so confounding to content owners.
As Pew notes, the online audience for news is enormous and still growing rapidly. The top 25 news sites in the U.S. topped 342 million average monthly unique visitors in 2011, up 17 percent over 2010. At the same time, online advertising continues to grow at a much faster pace than the general ad market. Total online ad spending hit $32 billion last year, up 23 percent, and online ads now account for 20 percent of total ad spending.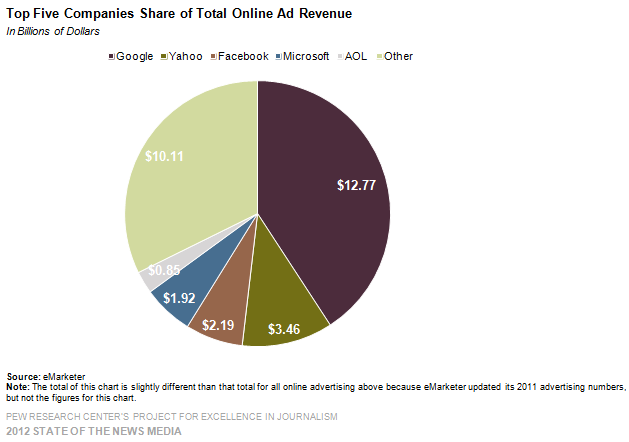 Those two trend lines ought to ad up to good news for online publishers. But as Pew also notes, publishers themselves are capturing very little of the added value created around their content by all that additional advertising revenue. Instead, five top technology providers — Google, Yahoo, Facebook, Microsoft and AOL — captured 68 percent of the online ad revenue in 2011, up from 63 percent in 2010.
The contrast underscores the problem of value capture that confronts nearly all content publishers online. What Google, Yahoo and the rest have in common, besides a robust online advertising business, is that they enable their users to do stuff with content: find it, file it, share it, personalize it, comment on it, etc. The technology providers whose digital tools enable that activity are then able to monetize their users' behavior around the content rather than trying to monetize the content directly, as publishers traditionally have done.
Hard as it is for many content owners to accept, content itself has little intrinsic value on digital platforms. Instead, value is created ad hoc, by users at the edge of the network rather than publishers at the center, using tools that enable them to personalize the experience. Inevitably, the organizations that end up capturing the lion's share of the value that users create for themselves are those that provide the tools by which it is created.
What publishers really need, more than new laws and new digital locks to restrict the use of their content, is better tools to help them capture the value created by users around their content. Or at least better deal structures that allow them to participate in the value exchange between users and technology providers at the edge of the network.