On April 10th Showtime will make all 13 episodes of its new Steven Soderbergh series "The Girlfriend Experience" available on its VOD platform in a single, binge-ready dump. So too will Starz, with all six episodes of the new Andrew Dice Clay comedy "Dice," as the pay-TV networks increasingly ape the strategy pioneered by Netflix.
They don't have much choice. Bingeing is how Americans watch TV now. According to Deloitte's latest Digital Democracy survey, 70 percent of viewers admit to binge-watching, defined as viewing three or more episodes in a single sitting, and one in three say they binge at least once a week.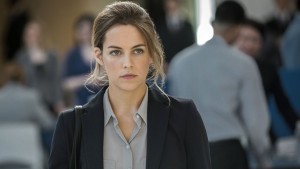 The average number watched during a single binge, fact, is an astonishing five episodes, which in the case of a drama series could easily eat up four or five hours. Millennials in the survey average six episodes per sitting.
We binge-watch so much TV in fact that we're making ourselves anxious, depressed and lonely, according to a separate study by researchers at the University of Toledo. Yet our appetite is only growing. According to Deloitte, all age groups in its study binged more in 2015 than they did in 2014.
The seemingly irresistible trend, however, poses a dilemma for traditional linear networks. Making new series or seasons available for bingeing risks undercutting primetime ratings.
For ad-supported networks, there's a pretty straight-line correlation between lower ratings and lower revenue. While NBC, TNT and TBS have all experimented with full-season releases the results have not been encouraging. NBC's summer series "Aquarius" dropped from 1.9 million viewers in the C7 window for the first episode to fewer than 500,000 by the finale. TNT's drama "Public Morals" saw its linear ratings fall by half over the course of its run.
Premium networks like Starz and Showtime, which carry no ads, don't have to worry as much about primetime ratings, so long as people keep subscribing to their channels. But the more they become like Netflix and Hulu, the weaker the case for keeping them within the pay-TV bundle. If people are mostly watching your shows on demand anyway, what's the point of a linear channel?
According to Deloitte, in fact, Millennials do most of their bingeing on devices other than a big screen TV, where linear bundles are barely a factor. Viewers 19-25 said they prefer watching movies and TV on a smart device, and do so 56 percent of the time. Only 44 percent of their movie and TV viewing involves an actual TV.
Both Starz and Showtime, of course, already make their networks available outside the bundle via over-the-top streaming, as does HBO. But going direct-to-consumer carries its own risks for the networks. None of the linear channels, by themselves, have anything like the breadth of catalog that Netflix, Hulu and Amazon can offer, making it difficult to match the price/value balance of the pure streaming services. As Vindicia CEO Gene Hoffman recently quipped of HBO Now, "Basically, they're selling a $15 subscription to 'Game of Thrones.'"
If people aren't able to binge-watch the current season, that price/value equation gets even uglier for the pay-TV networks.