There are two ways you could look at Apple's emerging music strategy. It's either extremely ambitious, or Apple isn't sure what to do in music so it's trying everything.
The two need not be mutually exclusive. In fact, no one in the streaming music business seems terribly confident about their own business model right now, even as new players continue to pile into the market.
Apple is widely expected to announce a subscription music streaming service next week at its World Wide Developers Conference, offering unlimited, on-demand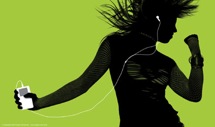 access to music from the major and leading independent record labels for $10 month. That will pit it Apple directly against Spotify, currently the leading subscription streaming service, with 15 million paying users and about 45 million users of its ad-supported free tier.
Unlike Spotify, Apple's on-demand service will not include a free tier. But Apple isn't writing off free music altogether. Far from it. According to the Wall Street Journal, is preparing to relaunch its existing free, ad-supported web radio service, iTunes Radio, adding programmed channels, some of which apparently will be hosted by celebrity DJs such as the rapper Drake, Pharrell Williams and Beats co-founder Dr. Dre, who is now working for Apple. Apple also recently hired away a group of producers and DJs from BBC Radio 1 to help with the programming. Read More »